Become a Business Partner
NordCham sees our members as business partners, with whom we create strong bonds, and help to grow and connect. We make a difference by being highly engaged with you and by ensuring that we provide value for your needs. Each company is unique, has different approach to how it does business and what it usually would prefer to have NordCham help it with. Below you find the different partnership categories and the benefits included. At the bottom of this page, you will also find details on sponsorship of events. We are keen to meet with you to discuss which partnership or sponsorship will best match your needs.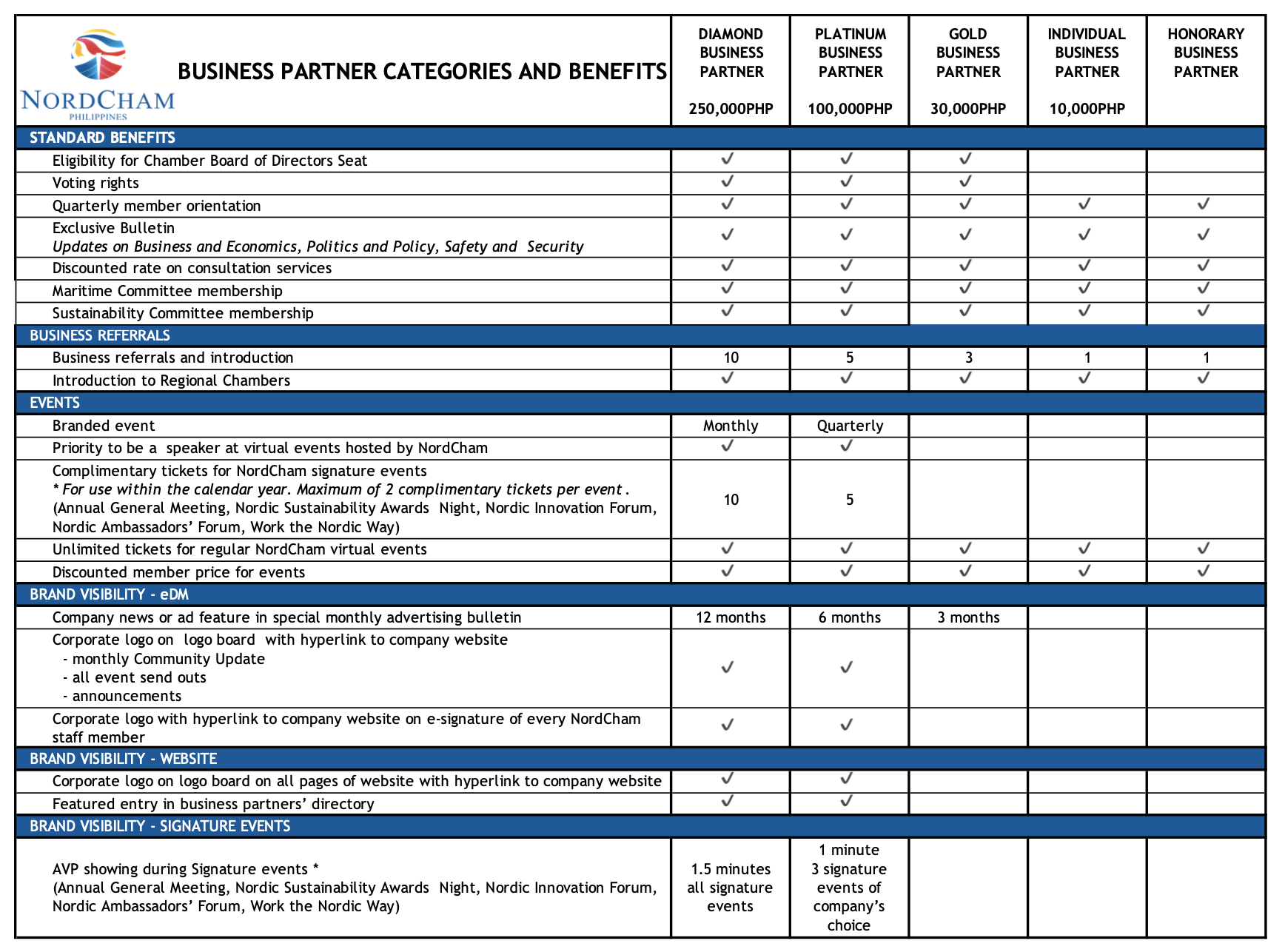 Highlighted Benefit Details
Business Referrals
We refer member to member businesses. Your involvement in Chamber membership show other businesses and potential customers that you are committed to supporting the local economy and community. Members can establish significant relationships with one another through lead exchanges and referrals facilitated by Chamber staff and even fellow members.
Networking And Events
Who knows you is as important as who you know. At NordCham, you get the opportunity to meet potential clients and customers at events ranging from intimate networking groups to annual events that attracts over 1000 attendees.
Exclusive Information
Receive our members only executive bulletins and be the first to receive information relevant for your business.
Business Workshops And Seminars
Our programs focus on business, economic, workforce development and concerns within the business community through workshops, knowledge-sharing series, forums, roundtable discussions.
Advertising And Sponsorship Opportunities
Build awareness of your business through cost-effective advertising in the Chamber's various communication outlets such as the community update, website, directory, events and others. Reach other business owners and decision makers.
Membership Database
Electronic membership database with contact information of fellow members that helps you directly market to people who may require your products or services.
Representation On Important Business Issues
We work to inform, educate and advocate on your behalf. NordCham is the voice of the Nordic-Philippine business community.
Credibility As A Chamber Member
Your membership brings credibility to your business and increases positive perception among other businesses.
Each Business Partner has it´s own logo and definition, which can be used on their website:

The Chamber's extensive connections allow a limited number of companies to reinforce their existing contacts with upper levels of industry and government. By having the highest level of commitment to the Chamber's network, we help Diamond Business Partners to establish new and wider bilateral relationships for their organizations. The Diamond Business Partner is offered industry exclusivity and has a very extensive level of branding and promotion.

Platinum Business Partners are companies wanting priority brand exposure through our network and beyond – with a lot of extra benefits/discounts for all in the organization. 
Local, regional or foreign-based companies participating in trade or other commercial activities in the Philippines or the Nordic and/or Baltic countries. Close to 100 organizations use this partnership to improve their business.

Individual citizen of any country involved or interested in commercial activities between the Nordic and Baltic countries and the Philippines. Limited benefits compared to the other business partnerships. Restricted to individual privileges.

Business Support Organizations, Trade Offices of the Nordic and Baltic countries, Chambers of Commerce, Industry Associations and NGOs. The acceptance and term of such membership shall be as determined by the Board of Directors of NordCham.
Sponsorship and advertisement opportunities
We have various opportunities - for events, website and monthly Community update.