At NordCham Philippines, sustainability lies at the heart of everything we do. From the very beginning, our mission has been to cultivate a sustainable future by championing businesses that prioritize environmental, social, and economic well-being. We invite you to explore our impactful sustainability initiatives and join us in shaping a better tomorrow. 
---
A Focus on Sustainability: An Integral Part of Our Identity 
Out of the 102 events we hosted in 2021, 21 were dedicated to sustainability, highlighting our unwavering commitment to championing environmentally responsible practices. By actively engaging our members, partners, and stakeholders, we cultivate a mindset that embraces sustainability. We are proud to draw upon the unique value proposition of the four Nordic countries, consistently ranked among the top in global sustainability, to inspire and influence sustainable practices in the Philippines. 
---
Recognizing Excellence: The Nordic Sustainability Awards 
Every year, we proudly host the esteemed Nordic Sustainability Awards, a celebration of the Philippines' most exceptional sustainability-driven companies. This prestigious event shines a spotlight on trailblazers who are making a positive impact on our society and environment. Discover the remarkable winners of this year's Nordic Sustainability Awards: Celebrating Excellence in Sustainability: NordCham Philippines Hosts The Prestigious Nordic Sustainability Awards Ceremony
---
Join the Movement: NordCham Philippines' Sustainability Committee 
Our highly acclaimed Sustainability Committee, comprising around 100 sustainability leaders, serves as a dynamic platform for collaboration, inspiration, and knowledge sharing. Meeting monthly, our committee members engage in facilitated brainstorming sessions and gain valuable insights from both experts and their peers. By collectively exploring topics that matter to our community, we fuel innovation and drive positive change. 
We invite Nordic and Philippine companies to join our monthly Sustainability Committee—a platform designed to inspire, improve, and showcase sustainability efforts. Through collaboration and knowledge exchange, we aim to create lasting change and influence policy reforms that support sustainability across the Philippines. To join the meeting you are either a member of NordCham or you can join as a guest twice. Sign up to the next Sustainability Committee meeting to join 30+ passionate sustainability leaders and learn from each other. To register, go to our event page.
To learn more about the members, how you might be able to contribute or how to get a special invitation (for non members), please contact our Executive Director, Jesper Svenningsen at js@nordcham.com.ph
Explore the Insights from Our Sustainability Committee Meetings at this link.
BE PART OF THE SUSTAINABILITY COMMITTEE MEETING LINKEDIN GROUP! This group for the Sustainability Committee is meant to keep the contact between committee meetings and to follow up on discussions. It is meant for committee participants to share articles and experiences and be a forum for participants to discuss freely. The group will also be used to inform participants on updates regarding the meetings, and it may also be used to better design committee meetings to ensure relevance and importance for participants.

---
NordCham Philippines' Sustainability Series: Inspiring Sustainable Business Practices 
Launched on 20 April 2021, the NordCham Philippines' Sustainability Series is a catalyst for promoting sustainable business practices and spotlighting companies that prioritize environmental, social, and economic impacts. By embracing Nordic values of sustainability, innovation, openness, equality, and trust, we aim to contribute to the sustainable development of the Philippines. Join us as we inspire businesses to become agents of positive change. You can learn more about the Sustainability Series events by watching the video playlist below:
The ranking on the overall performance of all 193 United Nations (UN) member states measuring progress towards achieving all 17 Sustainable Development Goals (SDGs) is dominated by Nordic countries as reported in the Sustainable Development Report (SDR). Finland, Sweden, and Denmark rank 1st, 2nd, and 3rd respectively. Norway ranks 7th while Iceland is 29th. Baltic countries are performing well, too. Estonia is 10th, Latvia 22nd, and Lithuania 31st. Active sustainability also reports how Nordic countries are leaders in education, the welfare state, and even happiness rankings. According to RobecoSAM, the reason why Nordic countries are able to hold these rankings for years is because they maintain strong leadership in governance, innovation, human capital and environmental indicators. 
Another article on reported by The Nordics suggests that there are 10 things to know about Nordic sustainability namely: (1) long standing commitments, (2) global leaders, (3) youth front and centre, (4) label it, (5) heightened awareness, (6) bioeconomy superstars, (7) transiting to cleaner energy, (8) awarding environmental stewardship, (9) greener cities, and (10) changing the face of transportation. Fanny Rehula says in an article for norden.org, "The Nordic countries agree that the whole Region has to work together towards sustainable development. Achieving sustainable development is an ambitious but necessary goal." The article also talks about the Nordic Council of Ministers' vision for Nordic co-operation geared towards the Nordic Region becoming the most sustainable and integrated region in the world by 2030. Nordic Expert Group for Sustainable Development has developed a Nordic Action Plan for Sustainable Development 2021-2024 which shall contribute to Vision 2030 along with the UN SDGs.
In this same ranking mentioned earlier (SDR 2021), the Philippines is ranked 103rd. However, the country has made significant progress in terms of sustainability. SDR 2021 shows that the Philippines has an overall increase in score to 64.51/100 from 59.93 in the year 2000 and 61.87 in 2010. The report also shows the most significant improvement to be in SDG 13: Climate action. This goes to show that a lot can be learned from the Nordic and Baltic countries when it comes to sustainability.

To understand these rankings more elaborately, here is a compiled report on the performance of Denmark, Finland, Norway, Sweden, and the Philippines for each and every SDG. (click to download)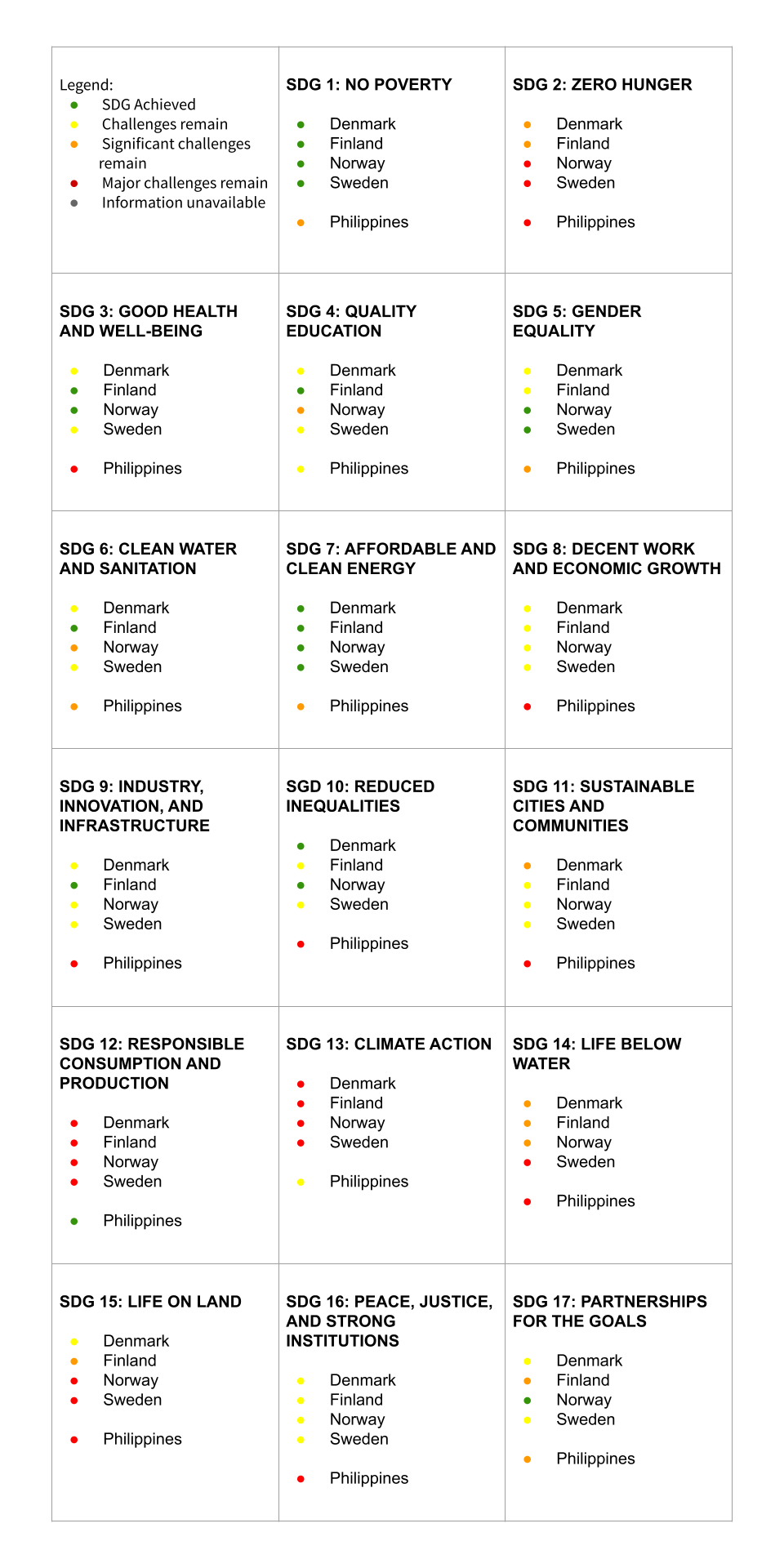 ---
Discover More: The NordCham Sustainability Book 
Delve deeper into our sustainability endeavors by exploring the NordCham Sustainability Book. This comprehensive resource provides valuable insights, best practices, and inspiring stories that showcase the transformative power of sustainability. To access the Sustainability Book, simply click the image below: