NordCham is very active with Sustainability. In fact it is part of the core of basically everything we do!
Since 2021, we have hosted a Sustainability Awards Night, where we celebrate some of the best Sustainability companies in the Philippines. 
In 2022, we started our very popular Sustainability Committee, where around 30 Sustainability leaders meet once a month to get new insights and inspiration, on topics selected by the members, by both experts and each other via a special facilitated brainstorming session.
Out of the 102 event we had in 2021, 21 were with focus on sustainability.
Below you find some more information, and we also encourage you to read more about our Sustainability Book here: https://nordcham.com.ph/nordic-philippine-sustainability-book-2022
And the thoughts and process behind it here: https://nordcham.com.ph/your-companys-sustainability-footprint-in-our-upcoming-sustainability-book.
NordCham PH's Sustainability Series
Launched on 20 April 2021, the series focuses mainly on promoting sustainable business practices and the companies that promote and do business in a way that has environmental, social, and economic impacts.
About NordCham PH's Sustainability Series
NordCham PH's Sustainability Series aims to help out in the sustainable development of the Philippines by inspiring businesses to be like the Nordics in promoting Nordic Values that include sustainability, innovation, openness, equality and trust.
The ranking on the overall performance of all 193 United Nations (UN) member states measuring progress towards achieving all 17 Sustainable Development Goals (SDGs) is dominated by Nordic countries as reported in the Sustainable Development Report (SDR). Finland, Sweden, and Denmark rank 1st, 2nd, and 3rd respectively. Norway ranks 7th while Iceland is 29th. Baltic countries are performing well, too. Estonia is 10th, Latvia 22nd, and Lithuania 31st. Active sustainability also reports how Nordic countries are leaders in education, the welfare state, and even happiness rankings. According to RobecoSAM, the reason why Nordic countries are able to hold these rankings for years is because they maintain strong leadership in governance, innovation, human capital and environmental indicators. 
Another article on reported by The Nordics suggests that there are 10 things to know about Nordic sustainability namely: (1) long standing commitments, (2) global leaders, (3) youth front and centre, (4) label it, (5) heightened awareness, (6) bioeconomy superstars, (7) transiting to cleaner energy, (8) awarding environmental stewardship, (9) greener cities, and (10) changing the face of transportation. Fanny Rehula says in an article for norden.org, "The Nordic countries agree that the whole Region has to work together towards sustainable development. Achieving sustainable development is an ambitious but necessary goal." The article also talks about the Nordic Council of Ministers' vision for Nordic co-operation geared towards the Nordic Region becoming the most sustainable and integrated region in the world by 2030. Nordic Expert Group for Sustainable Development has developed a Nordic Action Plan for Sustainable Development 2021-2024 which shall contribute to Vision 2030 along with the UN SDGs.
In this same ranking mentioned earlier (SDR 2021), the Philippines is ranked 103rd. However, the country has made significant progress in terms of sustainability. SDR 2021 shows that the Philippines has an overall increase in score to 64.51/100 from 59.93 in the year 2000 and 61.87 in 2010. The report also shows the most significant improvement to be in SDG 13: Climate action. This goes to show that a lot can be learned from the Nordic and Baltic countries when it comes to sustainability.

To understand these rankings more elaborately, here is a compiled report on the performance of Denmark, Finland, Norway, Sweden, and the Philippines for each and every SDG. (click to download)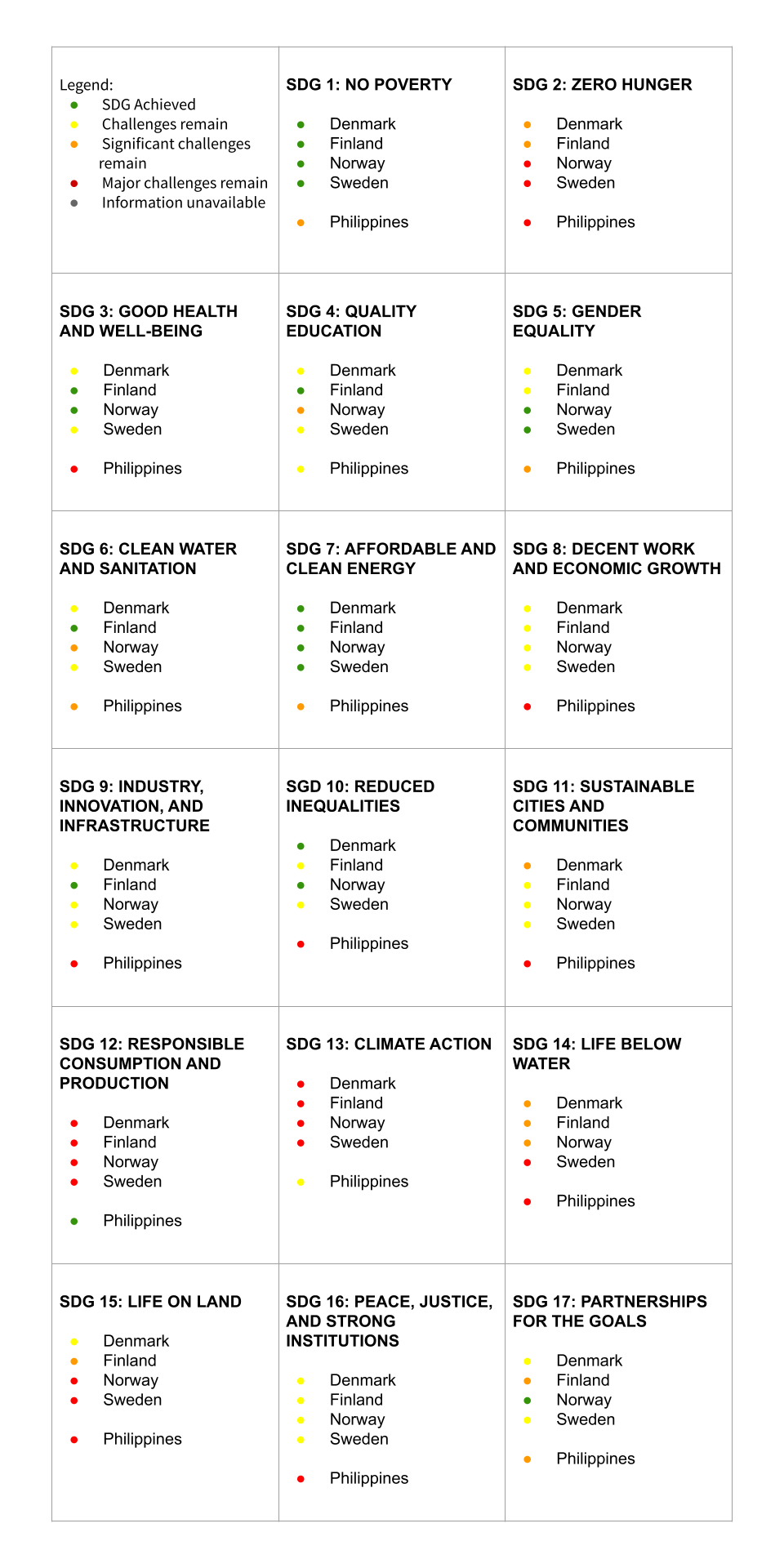 ---
Event Details
Sustainability Series 2021: An SME Promoting Sustainable Business Practices

The first series started with the Nordic Sustainability Awards 2021: SME of the Year Award winner, Einar's Natural Food Export (ENFE). Speaking on behalf of ENFE is Mr. Bjorn Tomter, the company's Sales & Marketing Manager. Hear from Bjorn how an SME like ENFE has developed a business sustainability strategy and its long-term benefits.

Einar's Natural Food Export (ENFE) is a manufacturer and exporter focusing on organic or naturally grown food products and wellness products. The company is purely dedicated to products that are conducive to a healthy lifestyle. ENFE also advocates green manufacturing practices and ethical principles in its business model. It supports the local community by providing jobs and income generation to marginalized families, thereby generating a positive social impact.
Products are instant herbal tea, virgin coconut oil, energy/meal replacement bars, and natural body care products. They are distributed in major supermarkets nearly nationwide and also exported to Norway and elsewhere.

The company also received the award as "SME of the Year 2020" from DTI in Iloilo province last November 2020.
Sustainability Series 2021: H&M's Journey Towards Circular and Climate Positive Fashion

NordCham PH held the second session of the Sustainability Series with Nordic Sustainability Awards winner in the Sustainability Business Partner of the Year Awardee H&M Hennes & Mauritz Inc. 

Sustainability Manager, SEA at H&M Hennes & Mauritz Inc., Marian Dang, discussed the following information:
Highlights from 2020:
H&M's Circularity performance updates
H&M's Climate performance updates
H&M's Social performance updates
H&M's Inclusion and Diversity performance updates

This webinar aimed to give the participants better insight into aspects of the value chain that needs to be addressed when working towards transforming fashion into a circular and climate-positive industry.

About H&M
Founded in 1947, Swedish clothing retailer H & M Hennes & Mauritz AB (STO: HM-B), commonly known as H&M, has grown into one of the most recognizable brands in the fashion industry.

The company considers the needs of present and future generations and is aware that our entire business must be conducted in a way that is economically, socially, and environmentally sustainable. This is why we set clear ambitions and bold goals
Sustainability Series 2021: Driving Change in Healthcare & Sustainability

As the whole world focuses on addressing the impact of the COVID-19 pandemic, it is also important to note that we are faced with equally and relatively important pandemic-like diseases such as diabetes, obesity, and other chronic diseases. To date, we have four million adults in the Philippines diagnosed with diabetes, and recent preliminary data from the Philippine Statistics Authority shows that diabetes is the 4th leading cause of death in the country in 2020. Diabetes is also included in the list of top co-morbidities of COVID-19, hence it is worth the attention it needs when we talk about the good health and well-being of Filipinos living with diabetes.

On 21 May 2021, Novo Nordisk shared how the company contributes on good health and well-being of the people through their defeat diabetes strategy, doctor & patient support solution programmes in the country and how these all circle back to the protection of the environment through their circular for zero global initiative.

Novo Nordisk Philippines was awarded Outstanding Employer of the Year during the Nordic Sustainability Awards held in February of this year.

About Novo Nordisk
Novo Nordisk Philippines strengthens its commitment to pioneering scientific breakthroughs, expanding access to medicines, and driving change in diabetes, obesity, and chronic diseases in the country. Supporting the entire patient journey from prevention all the way to cure is the best way to show kalingang may pagmamahal on the path to better care and more medical innovations that every Filipino can gain access to, fueled by a vision of a healthy, disease-free Philippines. 
Thank you to our intern, Ma. Chrissandra Torrefranca, for helping making this page