"Incorporating ESG (Environmental, Social, and Corporate Governance) considerations into Enterprise Risk Management (ERM) is essential for businesses to achieve sustainable and resilient development.", statement from the NordCham Sustainability Committee
On the 26th of April 2023, the Nordic Chamber of Commerce of the Philippines hosted its 11th Sustainability Committee Meeting with the topic of Crisis and Risk Management towards Sustainability at the AstraZeneca Office, Inoza Tower, Bonifacio Global City.
Representatives of various public and private organizations attended, including BDO Unibank, SN Aboitiz, Antrak Logistics, Oxford Business Group, Artelia, KeystoneSustainability, Nomura Research Institute, Buhay Marino, Asurion Hongkong, BJMP, Fundnest, National ICT Confederation of the Philippines, and Global IMI. 
Esteemed speakers were Ms. Katrina F. Francisco, Partner at SGV & Co. Philippines, Mr. Johannes "Jhong" Elamparo, Senior Director/Head of Risk and Data Protection Officer at Transcom, and Mr. Swapnil Bora, Delivery Head at ECC International.
Ms. Katrina Francisco started the event by discussing donut economics or how balancing the world's planetary and societal limits can lead to sustainable development. She then explained how businesses could identify and prioritize ESG (Environmental, Social, and Corporate Governance) risks through ERM (Enterprise Risk Management). Additionally, she highlighted the factors driving focus on ESG/Sustainability risk management, including megatrends and disruption, customer demands for sustainable products and services, investor movements toward SDGs, increased regulation addressing ESG issues, employee preferences for ESG-aligned employers, and growing pressure from NGOs and communities for radical transparency. 
As shown in the chart below, the speaker emphasized the importance of aligning ESG and ERM.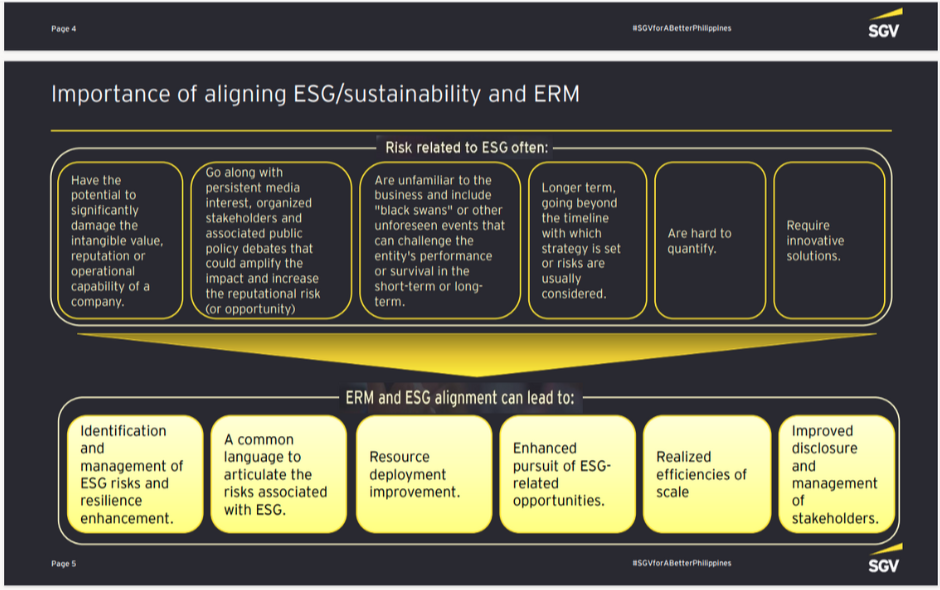 Ms. Francisco shared the critical performance components for ESG-related risks, including embedding ESG awareness in entity culture, establishing roles and responsibilities for ESG risk management, making the board more ESG risk-aware, and aligning ESG processes to the ERM and strategic planning processes. She also discussed identifying risks by connecting business analysis to risk identification, framing risks, and their impact, and assessing risk severity.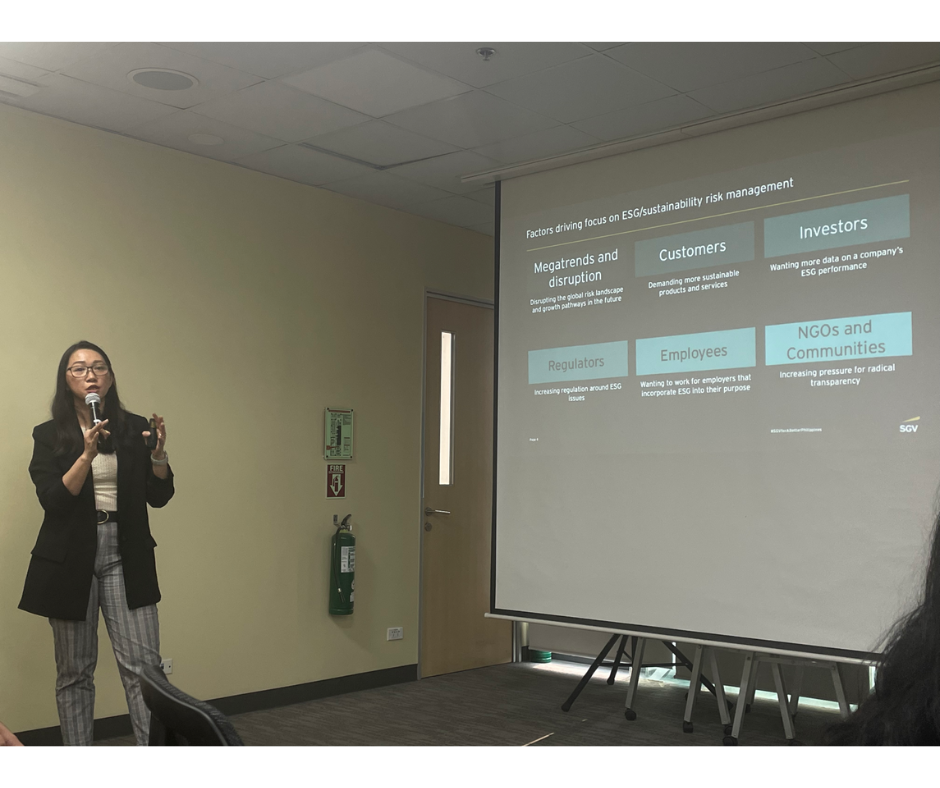 Mr. Jhong Elamparo followed with a presentation on the transition from defensive risk management to strategic resilience. He discussed operational, technological, and financial risks, such as supply chain, secure and flexible infrastructure, digitization, automation, and financial challenges related to market behavior and crisis response. He also delved into crisis response to holistic resilience strategy, emphasizing that risk teams should be at the center of the crisis. A better risk governance model leads to effective and efficient decision-making and crisis management.
The speaker also shared their initiatives entitled Transcom Story, a series of CSR activities aligned with SDG 3, 11, 12, 14, and 15. Some examples of said activities include:
HIV & AIDS awareness campaign in partnership with The Red Whistle

Provided critical items needed for the protection of children, public safety, and disaster management

KAAGAPAY Fund – call for donations for those who are financially affected by the lockdowns

Pre-loved items donation drive in partnership with ABS-CBN Foundation & Give Shop Philippines

Clean up Drive and Care for the Marikina River in partnership with Brgy. Ugong, Pasig City & the Asian Social Institute

Tree Planting Activities in partnership with 10M trees in 10 years, Bacolod Water District, Iloilo Business Park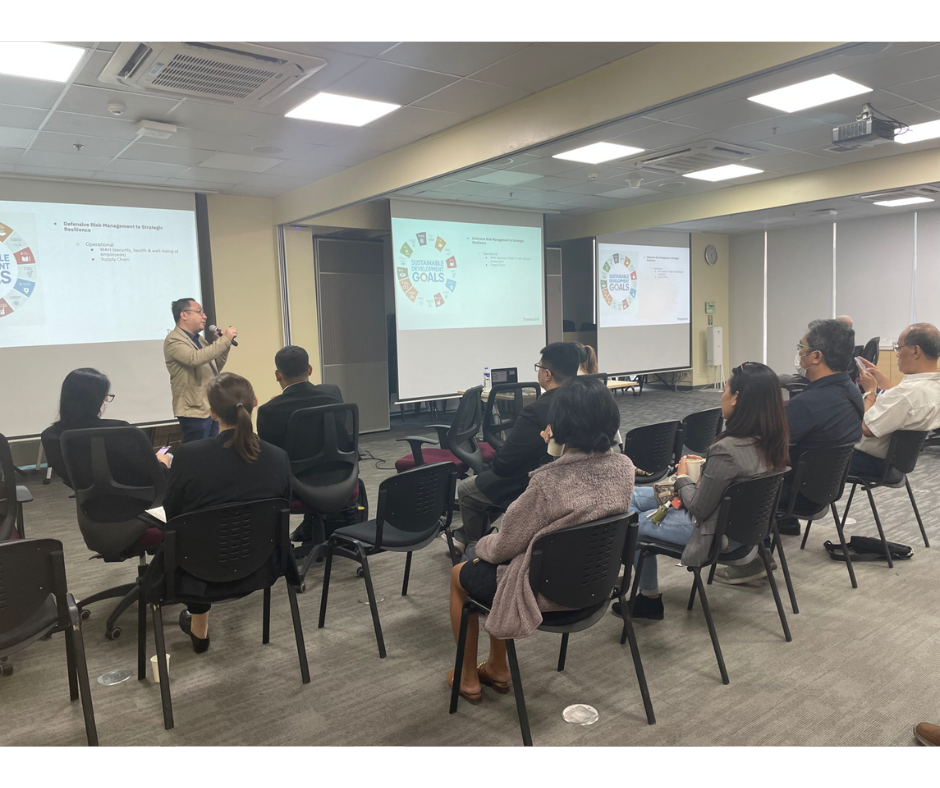 Rounding up the panelists was speaker Mr. Swapnil Bora. He stressed the importance of understanding the fundamentals of crisis management and the role of everyone in the organization in risk management. Moreover, he shared the "know-do-prove-improve" methodology for crisis management by documenting everything, applying the standardized operating procedures, providing evidence to stakeholders, and constantly improving the method. 
The speaker also explained the importance of understanding the context of a situation, including how it escalates and the different mobilization/involvement levels. The speaker explained the stages of an incident, from an issue to a disaster, and how the reputational impact of a crisis is detrimental to an organization. Hence, crisis and risk management are crucial to protect its reputation, ensure business continuity, reduce financial losses, protect its employees, meet legal and regulatory requirements, support stakeholder engagement, promote innovation and growth, and enhance organizational resilience. 
To achieve this, best practices must be considered, such as using data analytics, incorporating technologies, enhancing communication strategies, focusing on value, conducting simulations and drills, enhancing employee engagement, and reviewing and updating plans regularly. He also added the current trends & technologies that can be used, such as AI, predictive analytics, social media, virtual reality, cloud-based solutions, and applications.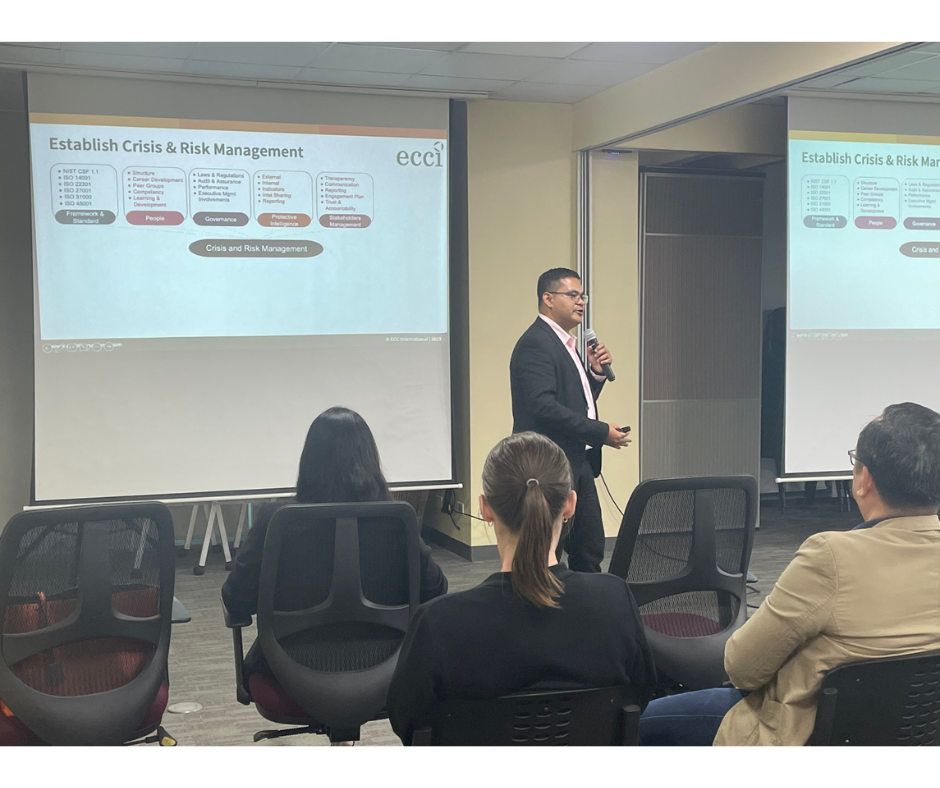 In conclusion, the committee meeting highlighted the importance of aligning ESG and ERM for sustainable and resilient development. The speakers discussed the importance of understanding the fundamentals of crisis management, knowing the risk and impact on the organization, and improving the methodology for crisis management. By integrating ESG and ERM, organizations can achieve their business objectives while contributing to achieving the SDGs and promoting a sustainable future.
The NordCham Sustainability Committee aims for more collaboration and learning opportunities across industries. Since its inaugural meeting in April 2022, the Sustainability Committee has hosted 10 meetings since, on a variety of sustainability topics with resource speakers. wherein guests are able to share best practices, network, explore partnerships, and collaborate with government units.  
NordCham Philippines looks forward to sustained collaboration with all parties and highlighting the sustainability initiatives of business partners while contributing to positive change by forging stronger relations with the government. 
The next Sustainability Committee Meeting will be on the 31st of May 2023 at the Philippine Transmarine Carriers, Makati City. The topic will be PPP Sustainability Collaboration.