"Education and awareness-raising about sustainable diet can empower individuals and communities to make informed and responsible food choices to avoid diseases" - statement from the NordCham Sustainability Committee
The Nordic Chamber of Commerce of the Philippines hosted its 10th Sustainability Committee Meeting on Nutrition and Health Education. It was held on the 29th of March 2023 at IWG (International Workplace Group) Spaces, World Plaza, BGC (Bonifacio Global City). 
Representatives of various organizations from corporate and non-governmental orientations attended. Some examples include Jollibee Foods, AstraZeneca, Artelia Philippines, Asia Perspectives, Go Philippines, Scholars of Sustenance Philippines, Waves For Water Philippines, ASSIST, Buhay Marino, Keyplants, SOS Children's Villages, Keller Williams, and Aristocrat Restaurant.  
Esteemed speakers of the forum were Allan Hansen, Managing Director of Arla Foods, Dr. Cyrus Q. Pasamba, Senior Medical Manager – Obesity & Rare Disease at Novo Nordisk Pharmaceuticals, and Abelyn "Apple" F. Evangelista, Head, Sustainability and Social Responsibility at Globe Telecom. 
Mr. Allan Hansen of Arla Foods discussed how sustainable eating can be approached on a local and global scale. Bringing up concerns of how malnutrition costs the country PHP 220 billion per year and how stunted growth is exhibited among a third of the nation's children, he suggested bringing sustainable eating to the table. This means consuming a diet that is nutrient-dense, has minimal environmental impact in its production process, and is affordable, accessible, and culturally sensitive. He calls on the audience to practice sustainable eating by incorporating more vegetables and whole grains into their diets, moderating consumption of fish, poultry, and dairy, and lessening one's intake of salt, sugar, and meat. 
In line with the mission of sustainable foods, Arla Foods developed their Sustainability Strategy 2026 – Stronger Planet, Stronger People. The target is to lower the carbon emission on dairy by making products that are nutritionally adequate, safe, affordable, and accessible.  
He also emphasized the importance of dairy and milk intakes for health benefits. Milk and dairy are a unique complement to plant-based foods and give the body bioactive benefits. Moreover, a glass of milk (200ml) could bring nutritional value as it is rich in amino acids and is considered a "superfood" compared to soy and rice.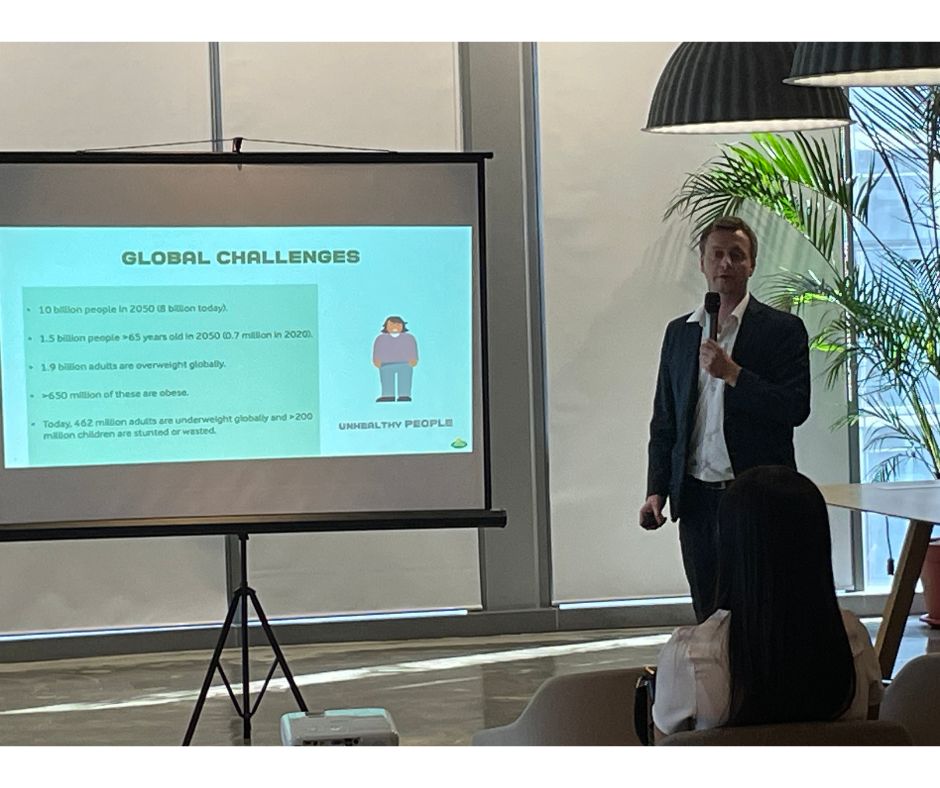 For the second talk of the forum, Dr. Cyrus Pasamba followed with a presentation on obesity in the Philippines. He emphasized that obesity is a chronic disease and a global pandemic, however many are not aware of this due to the lack of proper discussion. The prevalence of obesity locally is high at 37.2% with clustering in urban areas. This is a growing concern as persistence of obesity places people at risk for complications which may either be metabolic, mechanical, or mental. 
Dr. Pasamba explained that a breakthrough in the discussion surrounding obesity is in clarifying that obesity should not just be based on BMI. Obesity does start with a BMI of 30 and up, but there may also be a phenomenon he called "Thin Outside – Fat Inside", wherein two people may have the same BMI but differences in body fat.  
For most individuals, lifestyle modification is the first line of choice. However, there are inherent challenges from within the body and external factors which make sustainable weight loss difficult.  
Furthermore, Dr. Pasamba explained the social implications of obesity, stating that people living with obesity are prone to weight related bias. This deeply affects the way they perform within society and can affect how others perceive them in the workplace, leading to depression, low self-esteem, and poor body image.  
According to Dr. Pasamba, 6 years is the average time interval when a patient begins to have issues with their weight up to the time, they seek a consultation with a doctor. Likewise, Novo Nordisk changed the narrative of how obesity is talked about, and this change starts from within. NovoHealth programs and activities include weight management, introducing healthy lifestyle options, promoting physical activities, and helping to provide the necessary treatment when diet and exercise is not enough. They also educate people living with obesity via different awareness activities both physical and digital as well join hands in establishing standards for weight management for the different medical specialties.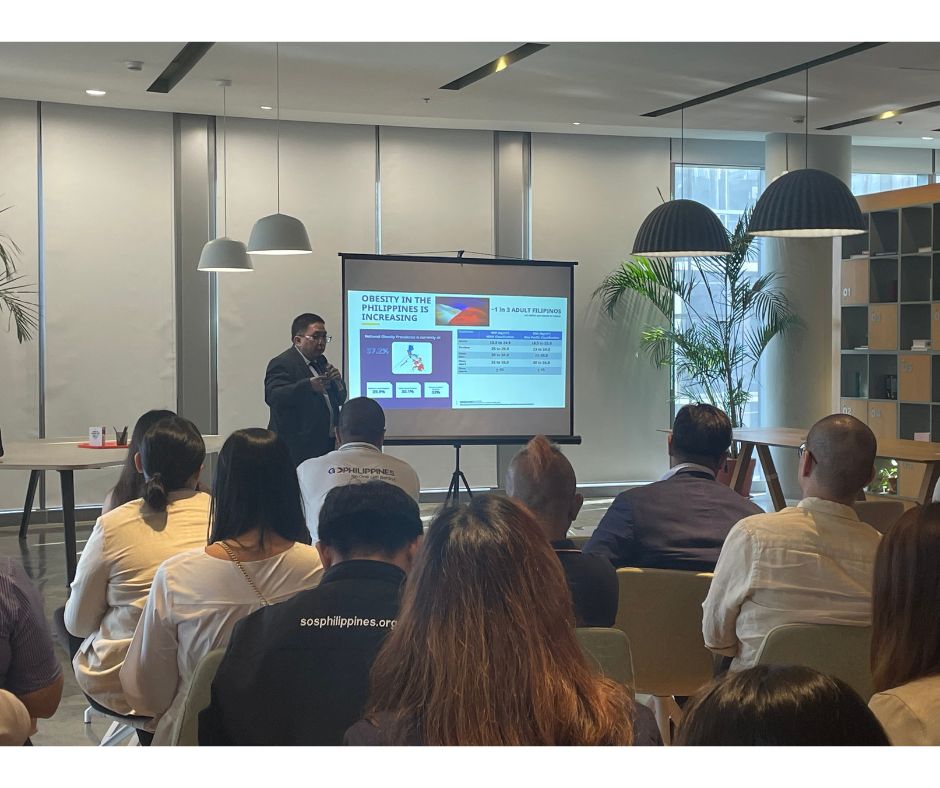 Rounding out the panel of speakers was Ms. Apple Evangelista of Globe Telecom. She discussed how the Globe Group Ecosystem of mobile and digital solutions platforms is making strides in increasing accessibility to health and nutrition within the Philippines.  
Globe has democratized access to healthcare for as low as $1. This will ensure that Filipinos have access to quality healthcare. Some of the digital health platforms of Globe are KonsultaMD, which increases access to mental healthcare and improves the reach between doctor and patient in the Philippines, HealthNow+ for medicine delivery, and AIDE for home visits & diagnostics.  
Globe has also improved accessibility to education, through two companies: Edventure and KodeGo. Edventure is a tutorial on-demand service where licensed teachers allow students to be tutored online. The goal is to aid in increasing literacy and learning statistics in the country. Whereas in KodeGo - a study now, pay later service scheme, participants learn in-demand tech skills like web development and pay for the boot camp only when they are hired. KodeGo helps solve the skill mismatch gap between job seekers and companies.  
Overall, Globe and Sustainability are guided by aligning with global best practices from the industry, frameworks, and standards and engaging with relevant stakeholders and industry partners to affect sustainable impact towards all parties involved.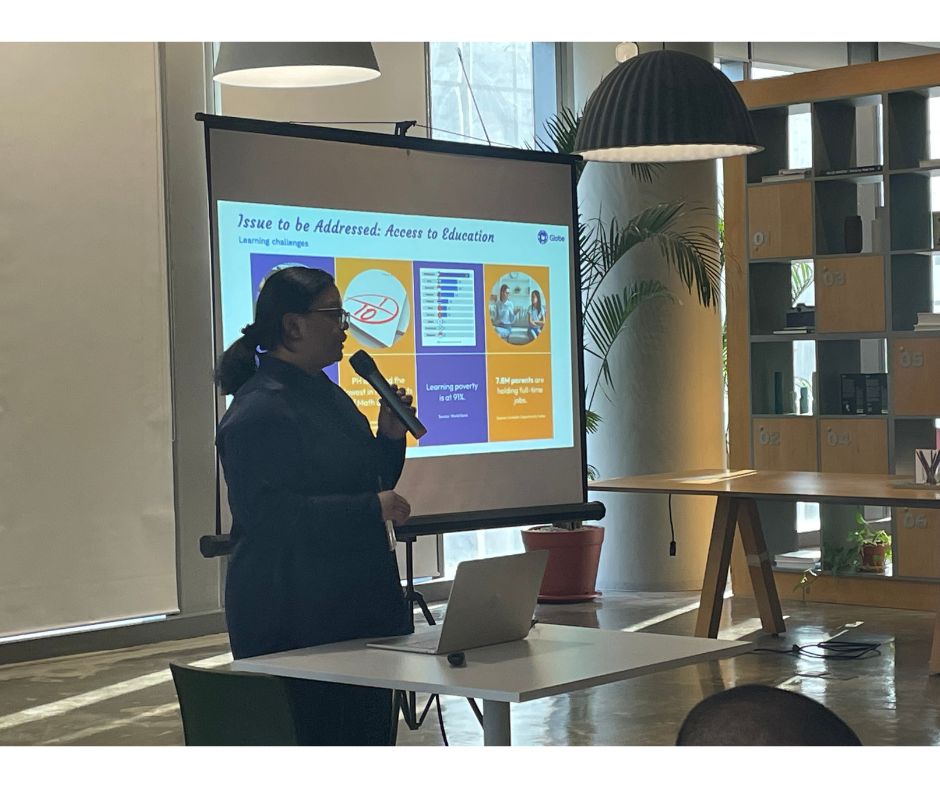 After the three presentations, the participants engaged in a facilitated brainstorming session. Below are the highlights from the discussions: 
Medical Delivery App, on-demand prescription, and temperature sensitive 

Mobile clinics to be more prevalent, more affordable, and more financially sustainable 
Milk's edible packaging innovation 

Injectable products with one-time-use packaging and waste, waste management, and disposal 

Food waste from hotels distribution – collection and feeding program 

Discussions for food distribution & accessibility for low-income families 

National Diet Program for kids in schools 
Breaking obesity stigma 

KonsultaMD – expand in Barangays to be accessible to underprivileged people 

Add nutrition education materials to applications 

Promising health insurance package including dependents 

Nutrition Education – preventive school-based and community disease awareness by fostering advocates/champion 
The NordCham Sustainability Committee aims for more collaboration across industries and to learn from each other and experts. Since April 2022, the Sustainability Committee has hosted 10 meetings on varying sustainability topics with resource speakers and sharing of best practices, networking opportunities and partnerships, and collaboration with government units.  
NordCham Philippines looks forward to sustained collaboration and highlighting the sustainability initiatives of business partners while contributing to positive change by forging stronger relations with the government.  
The next Sustainability Committee meeting will be on 26 April 2023 from 3:30 – 6:00 PM at AstraZeneca Office, Inoza Tower, BGC. The topic of discussion is Crisis and Risk Management. You may register now at this link. 
Recommended reading: