"Sustainable transportation requires public-private partnerships by championing infrastructure investment, promoting innovation of EV, and sharing data to improve the quality and availability of transportation services" -NordCham Sustainability Committee
On 22 February 2023, the Nordic Chamber of Commerce of the Philippines hosted its 9th Sustainability Committee Meeting with the topic of Sustainable Transportation.  
Attendees were representatives from BDO, AstraZeneca, Avantgarde Infra Machine Technik, Converge, Cemex, Integrated Micro-electronics, Kadence International, KeyPlants, KeystonePartners, Maccess Corporation, Mober Technology, Nomura Research Institute, Odfjell Technology, Q2 HR Solutions, Quicktrans Cargo Moving, Railway and Industrial Applications, Rish Electromobility, Secura International, and SN Aboitiz Power. 
The Committee Meeting focused on ways businesses may support Sustainable Transportation. The esteemed speakers were Mr. Rommel Gavieta, former DOTr Undersecretary for Planning, Engr. Rhea Buñao, Product Marketing Specialist at ABB, and Mr. Joachim "Chim" Josue, Business Development Manager at Autodelta Coach Builders, Inc (Volvo Buses). 
USec. Rommel opened the Committee Meeting by presenting the Global Economic Indicators in the Southeast Asian Region. During the Asian Financial Crisis, the Philippine economy was more resilient compared to its Asian neighbors as the economy was driven by agriculture and industry sectors. In terms of economic resiliency, the Philippines is set to join a small group of countries in the Asia-Pacific region with a GDP exceeding one trillion dollars by 2033. This will result in a significant transformation of the structure of the economy and drive foreign direct investment inflows into the Philippines.  
With regard to transportation, Mega-Manila and Metro Manila produces 60% and 40% of the national GDP, respectively. According to JICA (2018), the Philippine economy loses Php 3.5 billion daily due to traffic congestion. If the issues of traffic, toll routes, rail system, and converting the systems into the electrical system were not addressed, the traffic congestion would cost Php 5.5 billion a day in 2023. 
Linking transportation and sustainability, USec. Rommel explained that Philippines has one of the highest electricity rates as Filipinos pay the actual cost of petroleum, LNG, and electricity. Filipinos do not receive a comparative subsidy compared to the neighboring countries of Indonesia, Malaysia, and Thailand that provides a buffer for energy costing. 
Hence, he reiterated the active and planned program by the DOTr. Greening and Rationalization of Public Transportation in Metro Manila: 
Large data in monitoring commuter movement, traffic choke points using a mobile phone, rationalizing PUB routes, and granting franchises 

Use only double-deck buses on primary routes. 

Guarantee procurement of replacement of Jeeps for secondary routes 

Intensify tree planting along primary roads and Mabuhay roads 
Php 6 billion loans to ADB for green waterways and primary highways 
Promote digital payments to make them inter-operable 
Use of Sustainable Materials in the Development of Transportation Systems: 
NEDA Ambisyon Natin 2040 – part of the vision is to use a circular economy development that would use green materials for infrastructure projects of DOTr and DPWH. 
Use composite bamboo as a structural and architectural material for Mactan, Tacloban, and Dumaguete Airports. 

Use composite bamboo as a material for railroad ties for proposed at-grade freight from Tutuban (South Harbor) to Calamba (Laguna). 
His presentation also shed light on sustainable power such as Mega Manila's two low-heat geothermal sources – Mt. Natib, Bataan and Caldera of Tagaytay. The reserves that remained untapped as the bias for geothermal power in the country were high-heat geothermal plants. Utilizing low-heat geothermal power like in the Netherlands and Iceland, would change the energy mix of Mega Manila towards a green city and sustainable transportation.  
USec. Rommel further mentioned digital connectivity. As the country shifts from working from home, the Philippines is becoming a digital hub and increasing its centrality in transpacific networks. With the emergence of MetaVerse worth $3.3 trillion in the global economy, this is an opportunity for the country to tap and work to our advantage while remotely working at home.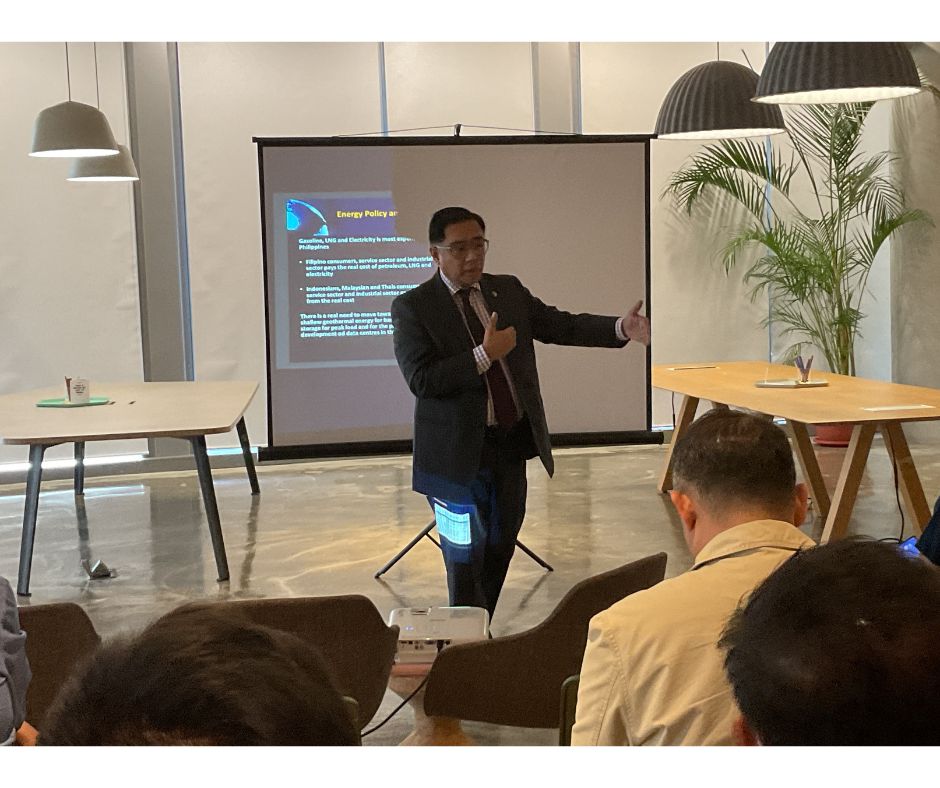 Hereafter, Engr. Rhea started her presentation by highlighting ABB's zero-emission future with their smart, reliable and emission-free electric vehicle charging solutions. ABB provides chargers, digital products, and connected services. She then compared the Internal Combustion Engine (ICE) and Electric Vehicles (EV). Switching from petrol to electric vehicles significantly increases efficiency and reduces 70% of greenhouse gas emissions. EVs save up to 50% of the emissions for their overall lifecycle.  
This became a driving factor for ABB to invest in its e-mobility business with more than 400 engineers dedicated to research and development. Over the decade, ABB has been leading major development activities. They were involved from the founding of CHAdeMO in 2010 and a founding member of the CCS alliance in 2012.  
ABB is working with various organizations and standards bodies along with other vehicle OEMs: 
CharIN - a non-profit organization that promotes the Combined Charging System 
Open Charge Alliance - an organization that supports the compliance and usage of communications protocols regarding EV.  

OppCharge - developed with Volvo. A charging system used for buses. 

Active in the development of local regulations for the EV system 

Member of the Electric Vehicle Association of the Philippines and involved in ECCP's automobile committee 
Engr. Rhea also shared their portfolio of EV chargers and products – AC destination, DC destination, DC (and AC) Fast, Depot charging, DC High power, and MCS - Ultra fast, compliant with the standards set in place. She highlighted their All-in-One charger: Terra 360 – the world's fastest all-in-one charger with 360kW of power within a 30-minute charging time.  
In Norway and UK, public charging infrastructure is available for eTrucks. This paved the way for ABB to be involved in critical developments and standards for Megawatt Charging System, a new standard being developed that will enable manufacturers and users to have their charger up to 3MW. In mid-2025, MCS standardization is expected to be published. The EV industries will benefit from MCS as it will cater to the demands of bigger trucks and pave the way for the involvement of marine vessels like cargo ships and ferries. Norway started its pilot project with its largest grocery wholesaler ASKO. They have two electric ships operating and supplying in their area of operation. 
Going beyond, ABB and Iveco are optimistic about looking into wireless charging of EVs on the road. Experiments have been made in Italy constructing a 1 km circuit track to test the scalability of a charging system with EV while on the move. Aside from this, ABB and Lilium are revolutionizing charging infrastructure for regional air travel.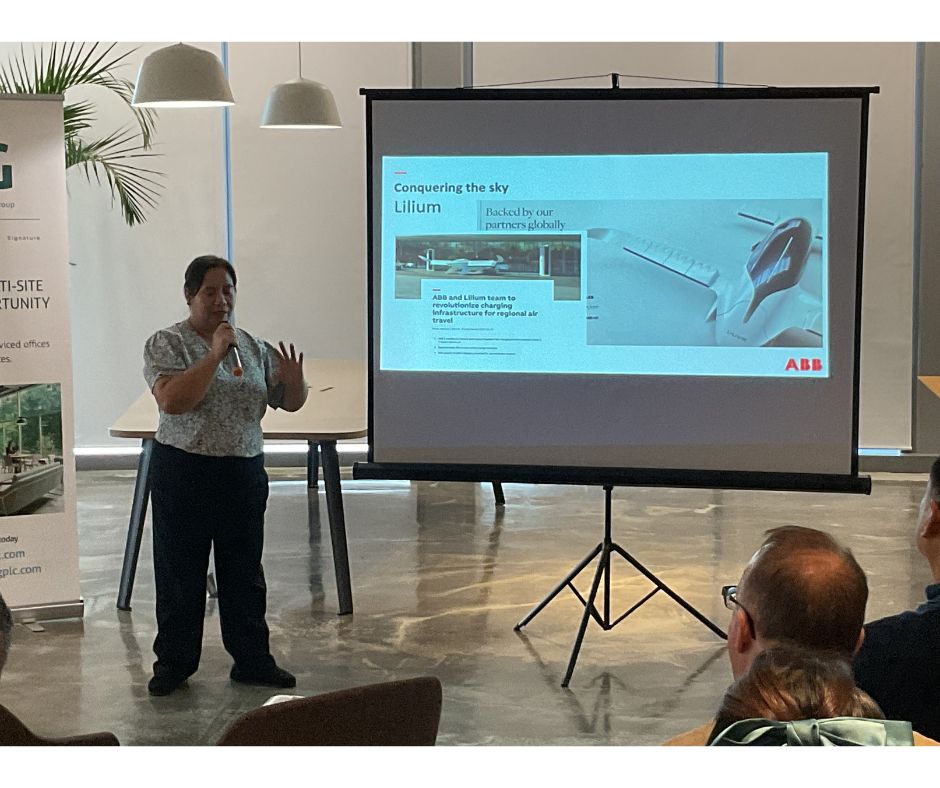 Finally, the last on the panel of speakers is Mr. Chim from Autodelta Coach Builders, the Philippines' exclusive distributor of Volvo Buses since 2015. They are present in all the major islands in the country.  
Mr. Chim started his presentation by sharing the global challenge of transportation and congestion: 
By 2030, 60% of the world's population will be concentrated in urban cities.  

Congestion in Mexico City costs 1.5% of its GDP each year,  

70% of the area in Hannover is exposed to high noise levels 

1,300 people die due to traffic accidents in Moscow every year 

31% of Johannesburg's greenhouse emissions came from transportation 
The Philippines is no exception facing challenges with congestion and pollution. In 2019, 12 million vehicles were registered in the Philippines, and 3 million were recorded in Metro Manila. Recent talks have suggested that Metro Manila is now regarded as Mega Manila, considering the people in adjacent provinces traveling to the city center of Manila. Likewise, in 2017, the number of daytime commuters in Metro Manila was 14.5 million, whereas night-time commuters were 12.9 million. The country also recorded 67,000 Filipinos dying due to air pollution and 260 motor vehicle accidents.  
Mr. Chim reiterated that congestion and traffic are the results of urbanization if the diligent planning of public transportation was neglected. Hence, Autodelta promotes transit-oriented development by keeping in dialogue with landowners, developers, and policymakers of the importance of public transportation. He also debunks the myth that buses are the cause of traffic. The Philippines is a car-centric society with roads designed to envision private cars, which has become challenging. With this, he illustrated that 10,000 passengers equals 2,500 cars which only requires 125 regular Volvo buses.   
In 2014, the Premium Point-to-Point Bus System was developed by DOTr, with the primary goal of shifting car users to riding buses. The P2P bus gives Filipinos fixed departure schedules, designated terminals, air-conditioned, comfortable seats, and saves money on gas, toll fees, and parking. In 2018, a survey was conducted among the passengers from Alabang Town Center to Greenbelt 1. The profiles of the passengers were multiple vehicle owners, young working professionals, company executives, and previous non-commuters. The total number of passengers was 1,016,544, with an average of 3,330 passengers per day – 60% of Ridership are car users. Hence, it helps relieve the road of over 2,000 cars and frees up around 10 kilometers of road space. Moreover, the cost-saving of P2P buses can save up to Php 160,000 annually.  
Autodelta envisions premium mass transport infrastructure for car communities. The target is for car users by providing them with premium public transportation service with different P2P routes connecting to one another, seamless exchange of different transportation modes, and more electric buses.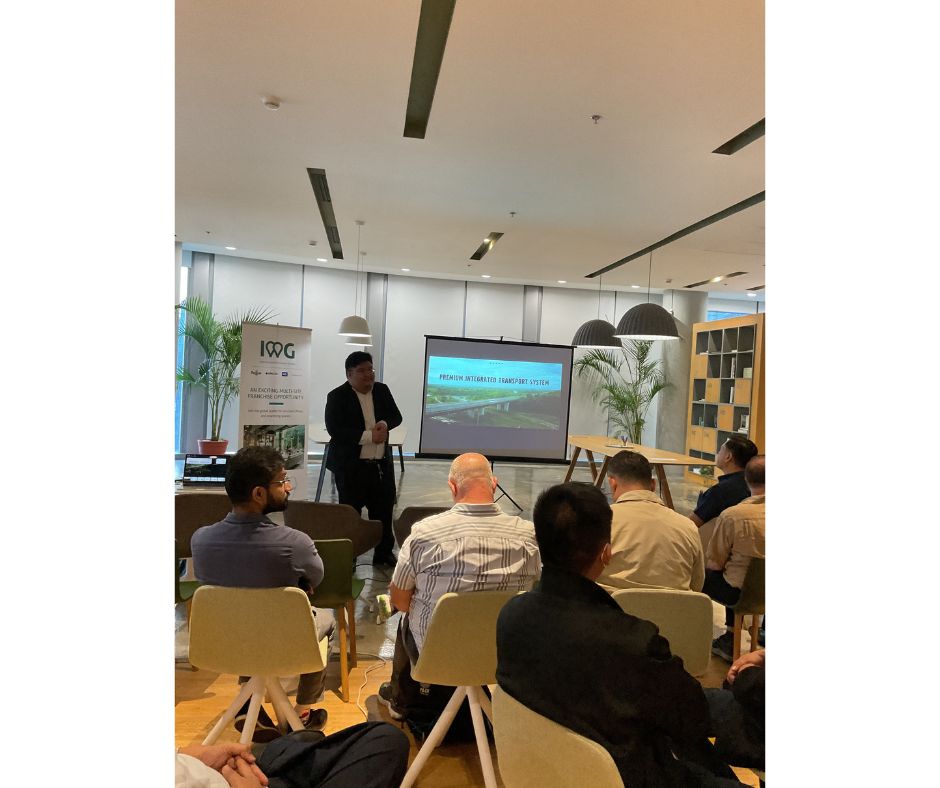 After the three presentations, the participants engaged in a facilitated brainstorming session. Below are the highlights from the discussions: 
Limit use of vehicle to 5 to 10 years 

Digitalization of all vehicles 

Reengineer jeepneys to be more modern 
Development of walkable cities, improvement of sidewalks and underpass 

Review the routes – car community area to commercial areas 

Push the government to think about a mass transit system 

Find a political champion 

Use renewable fuels such as biomethane, biofuel, hydrogen 
Financing of charging station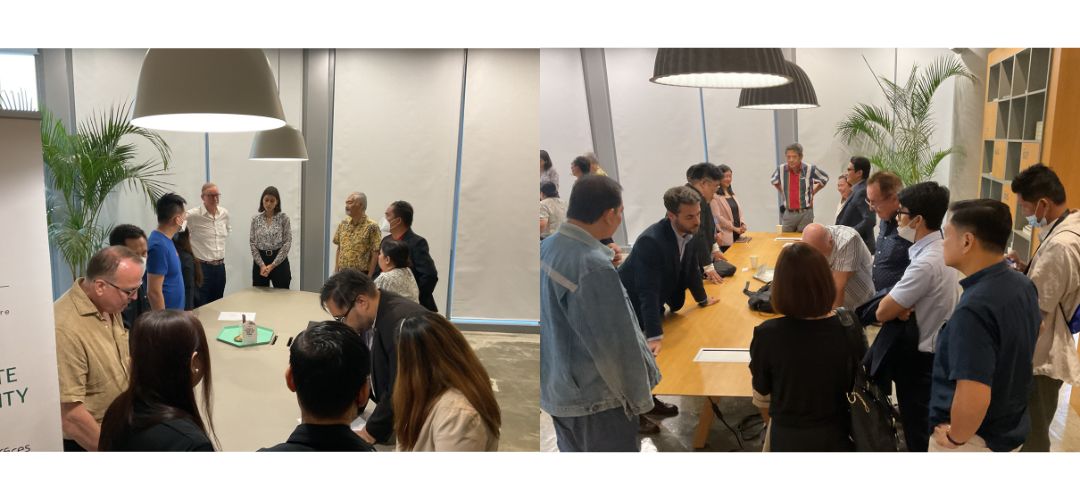 The NordCham Sustainability Committee aims for more collaboration across industries and to learn from each other and experts. Since April 2022, the Sustainability Committee has hosted eight meetings on varying sustainability topics with resource speakers and sharing of best practices, networking opportunities and partnerships, and collaboration with government units.   
NordCham Philippines looks forward to sustained collaboration and showcasing the sustainability initiatives of business partners while contributing to positive change by forging stronger relations with the government. 
The next Sustainability Committee meeting will be on 29 March 2023 from 3:30 – 6:00 PM at IWG Spaces, World Plaza, BGC. The topic of discussion is "Nutrition and Health Education," with speakers from Arla Foods and Novo Nordisk. Registration can be accessed here.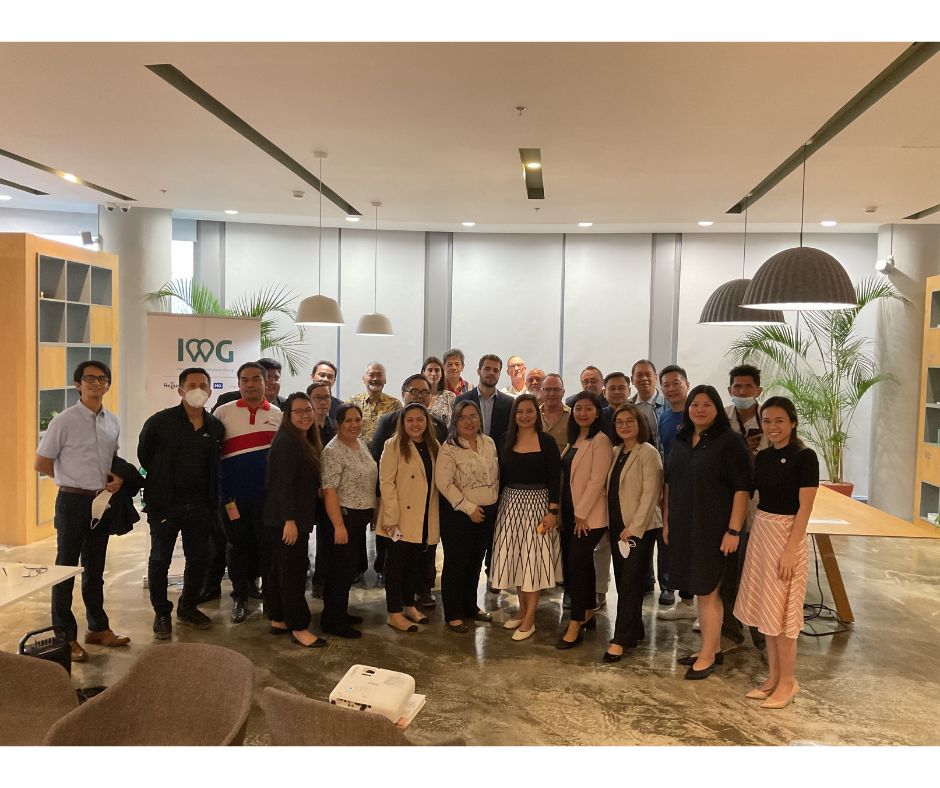 Recommended reading: